Science Friday: Moby Dick Found (sort of) | Ancient 'Wave of Poseidon' Was Real Tsunami | Gobekli Tepe
Submitted by Tjadendevries on Fri, 04/27/2012 - 5:23pm
White Killer Whale Spotted—Only One in the World?
Christine Dell'Amore
The headline-grabbing all-white adult killer whale spotted off Russia this month may well be one of a kind. But the sighting may not be the first time he's been caught on camera.

Scientists were studying acoustic and social interactions among whales and dolphins off the North Pacific's Commander Islands (map) when the team noticed a six-foot-tall (nearly two-meter-tall) white dorsal fin jutting above the waves—hence the whale's new name: Iceberg.

"The reaction from the team for the encounter, which happened on an ordinary day for spotting and photographing the whales, was one of surprise and elation," researcher Erich Hoyt said via email. Though he wasn't aboard the boat, Hoyt co-directs the Far East Russia Orca Project (FEROP), which had organized the expedition.

[...]
http://news.nationalgeographic.com/news/2012/04/120425-white-killer-whale-russia-animals-science-albino/
---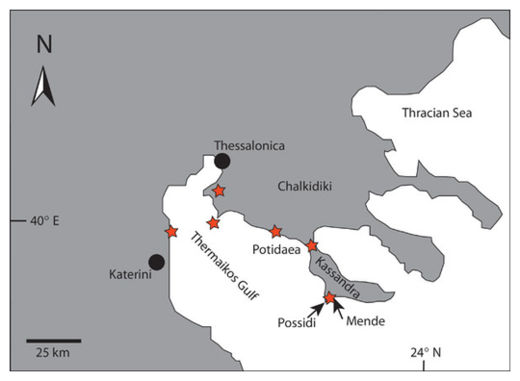 Ancient 'Wave of Poseidon' Was Real Tsunami
SAN DIEGO – When the ocean rose up and saved a Greek town from a marauding Persian army nearly 2,500 years ago, renowned Greek historian Herodotus chalked it up to an act of the gods.

Yet new evidence suggests his account of divine intervention is firmly rooted in the earthly realm, and was actually a tsunami, according to a researcher who spoke here today (April 19) at the annual meeting of the Seismological Society of America.

"This is historical stuff, but you have to interpret it in a scientific way," said Klaus Reicherter of Germany's Aachen University, who studied geological evidence of the event.

[...]
http://www.ouramazingplanet.com/2787-ancient-wave-real-tsunami.html
---
Gobekli Tepe: The World's First Temple?
By Andrew Curry
Six miles from Urfa, an ancient city in southeastern Turkey, Klaus Schmidt has made one of the most startling archaeological discoveries of our time: massive carved stones about 11,000 years old, crafted and arranged by prehistoric people who had not yet developed metal tools or even pottery. The megaliths predate Stonehenge by some 6,000 years. The place is called Gobekli Tepe, and Schmidt, a German archaeologist who has been working here more than a decade, is convinced it's the site of the world's oldest temple.

[...]
http://www.smithsonianmag.com/history-archaeology/gobekli-tepe.html